2

0

2

1

C

H

E

E

R

L

E

A

D

I

N

G
Congratulations PRUYFAC Competitive Cheer team on your second win at East Allegheny Spiritfest Cheer Competition!
2021 Competitive Cheer Team:
Madelyn Vigna
Makenna LeDonne
Corrina Febbraro
Remi Morgan
Lorelei Hart
Layla Khun
Chloe Gebroski
Jael Smith
Lilly Pitts
Abbi Ondich
Natalie Synan
Amelia Sidoni
Coaches: Ashley Ondich and Megan Morgan
Team Mom: Jennifer Gebroski
East Allegheny-Spiritfest
1st Place - Mighty Mites Division
Ambridge-Battle at the Bridge Cheer Competition!
1st Place - Mighty Mites Division
2021 COMPETITIONS
September 19 - Cheerfest - Wellsville High School - 4th place
September 26 - Cheerfest - Seneca Valley - 5th place
October 3 - Battle at the Bridge - Ambridge - 1st place
October 17 - Spiritfest - East Allegheny - 1st place
October 31 - Sparkle and Shine Cheerfest - Hempfield Area High School
November 7 - South Hills Showdown - Bethel Park High School
2021 IMPORTANT DATES AND EVENTS:
Please continue to check back for updates on important info, dates and events. If you have any questions contact the VP of Cheer, Megan Morgan, at pryouthcheer@gmail.com
CONGRATULATIONS to our teams moving onto the Superbowl!! What an amazing season!
Superbowl - Saturday, October 30th, at North Hills turf field (Ross Elementary)
Banquets - Tickets are available now! Athletes and Coaches are free but still need to obtain a ticket!
Competitive cheer team year end party - Tuesday, Nov 16th, 6-8pm at Urban Air Cranberry (check with team mom to purchase tickets)
UNIFORM RETURN - Dates coming soon!!
Recreational Cheer Practice Schedule
Stay tuned for the 2022 season!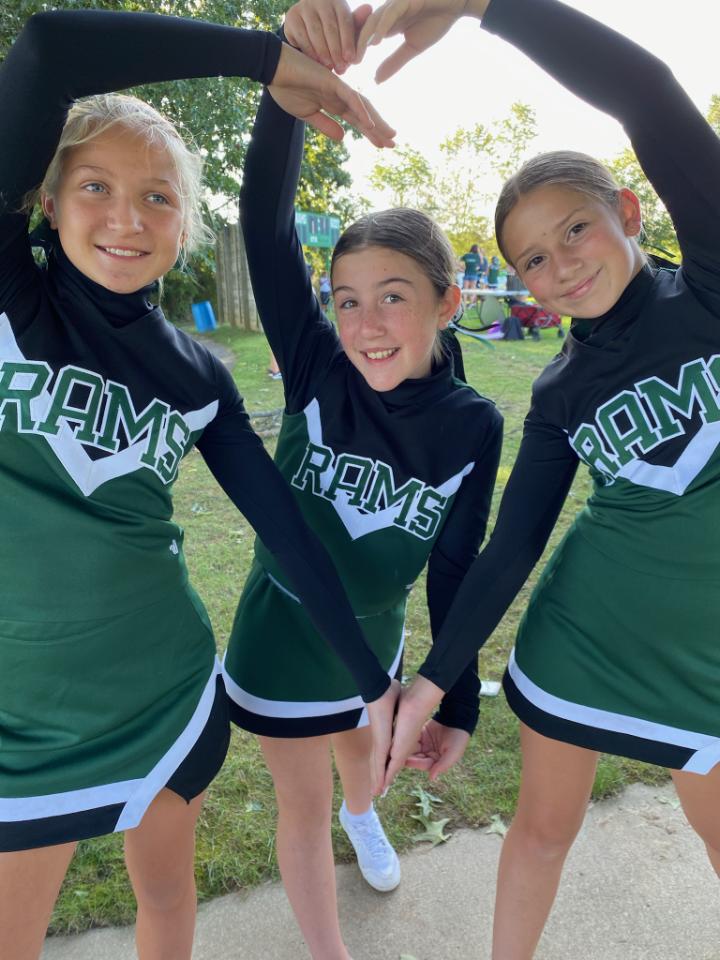 2022 RECREATIONAL CHEER INFORMATION
Small team- entering 1st and 2nd grade
Middle team- entering 3rd and 4th grade
Big team- entering 5th, 6th, and 7th grade
Cheerleaders do not have to try out for the recreational squad. Cheer teams will be determined after the football players have been drafted and assigned their teams so that siblings can be aligned. Requests are accepted by emailing, Megan Morgan at . Please be aware that all requests are considered but cannot always be accommodated and team placement is final. The recreational teams will cheer at all football games with the expectation that the cheerleaders will remain at the games from beginning until end.
Camp week for recreational cheer teams for the 2022 season will be scheduled soon. A detailed practice schedule will be posted as soon as the football schedule is announced by the league.
The first week of practice of recreational cheer teams is choreography camp week and it is mandatory that your child attend this week of practice to allow them to cheer in the half time routine at the opening day football game.
Any absence during choreography week must be approved by the Cheer VP.
Cheerleading practices will take place at Richland Community Park, unless otherwise specified by the VP of Cheerleading or the Secretary.
Additional costs for cheerleaders are listed below. Order forms and/or directions will be sent out once registration is complete. Reminder to check in the pass along box as many of these items are available for FREE!
REQUIRED ITEMS TO PURCHASE:
*Mock cropped turtleneck (order form through email)
* Spandex cheer shorts - Suggested to purchase from Maebee Design - shorts must be shorter than a 2 inch inseam
*Cheer shoes (Must be a CHEERLEADING shoe and SOLID white)
shoes can be found online and in store at some locations at dunhams, dick's sporting goods, walmart, omni cheer, amazon, shoe dept, plus more. Here are a few links to help:
https://www.amazon.com/s?k=cheerleading+shoes&ref=nb_sb_noss
https://www.walmart.com/search/?query=cheerleading%20shoes
https://www.omnicheer.com/shop/cheerleading-shoes
*No Show all white socks (NOT ankle socks - socks should NOT BE SEEN when shoes are worn)
*Joggers from Maebee Design at https://maebeedesign.square.site/shop/10
*Omni cheer rain jacket https://www.omnicheer.com/shop/accessories/chasse-clear-rain-jacket-with-hood_9054
Cheer rain jackets may be purchased as a team to alleviate shipping costs! Check with your coach and team mom
*Gloves/Earwarmers (must be solid black or Rams earwarmers from Maebee Design) Can purchase inexpensive ones at walmart price ranges from $3-$5
Recreational Cheer Practice Schedule 2022
(All practices take place at Richland Community Park)
TBA
WHAT TO WEAR/BRING TO PRACTICE:
For Safety Purposes -Always wear tight fitting clothing AND rec cheer shoes - sports bra, compression shorts, tight tanks/tees, etc. to ensure safety while stunting/tumbling. Hair must be pulled up and absolutely NO JEWELERY (including earrings, watches, hairbands on wrists, etc). NO FAKE/ACRYLIC NAILS! Bring PLENTY of water - one small bottle is never enough in the summer heat. Wear/bring sunscreen/spray bottles/bug spray/small towel. It gets hot with no shade. It's good to have a bag to carry all your cheer items in. You will also need to bring your poms and anything else specified by your coaches/team mom.
COMPETITIVE CHEER 2022
All registered cheerleaders are welcome to join our competitive teams and must sign up during registration. Team placement is based on the number of registrants, age for divisions, and ability. The first day of competitive cheer practice will be announced shortly! Camp week begins mid July prior to the start of Recreational Cheer and is MANDATORY! During camp week the cheerleaders will have their tumbling and stunting assessed, taught their routine and given their spots this week.
Therefore, ALL MUST ATTEND camp week to be on the team.
No exceptions. NO ABSENCES PERMITTED!
*Practices and competitions for competitive teams are mandatory. Absences must be approved by Cheer VP*
***Please note*** Cheerleading is a team sport. When even one cheerleader is missing, it prevents the entire team from practicing stunts and running their routines correctly/safely.
A detailed schedule will be posted on our website under the cheer link as soon as it is determined. Competitive teams attend around 6 competitions and the season runs from July to November. Fees to attend competitions will be collected once competitions are set. Typically, these costs are around $120. This covers the entrance and registration cost of each cheerleader for the competitions we attend throughout the season.
Competitive cheerleaders must also purchase a second pair of cheer shoes strictly used for competitions and indoor practices only. It is encouraged to wear your recreational cheer shoes to comp practices for tumbling and stunting purposes.
**All girls on the competitive teams are required to fully participate in the recreational team that they are placed on as well or risk removal from the competitive team.
Anyone who would like more information regarding recreational or competitive cheer can contact the Cheer VP, Megan Morgan at .
PASS IT ON PROGRAM
We are now collecting for football and cheer! Football cleats, pants, pads, etc. are accepted. Cheer shoes, omni cheer rain jackets, mock turtlenecks, shorts, and practice wear are accepted. Do you have any of these items that your football player/cheerleader has grown out of? You can now pass it on to your fellow teammates! If you have any of these please hand in to Megan Morgan. Everyone is welcome to take as needed. Items are available at uniform/equipment handout.